Opening Times
We are closed to public access for the foreseeable future.

Please call us to arrange a visit or discuss items you would like posting out or delivering within the York area.
Stockists for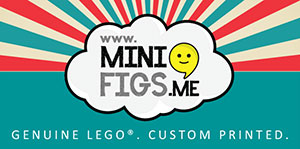 Keep Me Updated
Let us keep you updated as soon as we get new collectable Lego® sets, minifigs and collections we get into the shop. Just sign up below:
Birthday Parties
Please visit our party hosts website to learn more about the LEGO® Birthday Parties we can host in our dedicated party space. Watch a video, read reviews and check availability here:
About Us
We think LEGO® is so awesome that we built our own little shop in York, where we specialise in selling minifigures on their own as well as full sets (both new and vintage) and bricks available by the Kg. Our customers are collectors of all ages with many Adult Fans of Lego (AFOL's).
Our other websites (and the products we have designed and developed) include:
Minifigures Displays - Launching soon!