Opening Times
Monday-Friday (term time)
Morning 10-1pm
Afternoon 2-5pm
Monday-Friday (school holidays)
10-5pm
York timetable and Leeds timetable
Saturday
10-5pm
Sunday
11-5pm
Bank Holidays
Closed
Stockists for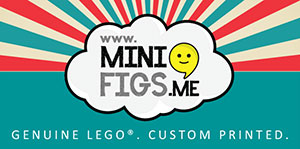 Keep Me Updated
Let us keep you updated as soon as we get new collectable Lego® sets, minifigs and collections we get into the shop. Just sign up below:
About Us
We think Lego® is so awesome that we built our own little shop in York, where we specialise in selling minifigures on their own as well as full sets (both new and vintage) and bricks available by the Kg. Our customers are collectors of all ages with many Adult Fans of Lego (AFOL's).
Our other websites (and the products we have designed and developed) include:
Minifigures Displays - Launching soon!